Jurassic World: Dominion Dominates Fandom Wikis - The Loop
Play Sound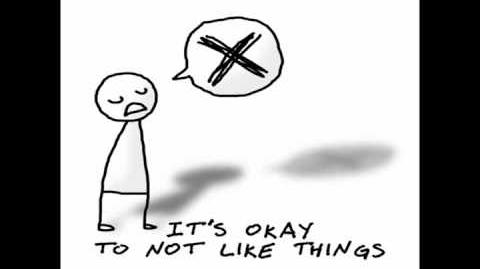 YKINMK is short for Your Kink Is Not My Kink. The phrase refers to the fact that people have different preferences, and that what one person finds sexy can be the same thing that someone else thinks is a turnoff or even completely disgusting. YKINMK doesn't apply to exclusively sexual subject matter, though; it can also refer to things like MPreg, torture!fic, hurt/comfort, and non-explicit slash or het.
Because sexiness in general is a matter of opinion and not an objective fact, people who write fan fiction that includes sexual topics, especially smutfic and PWP, find they have many different opinions about what they find erotic. These writers have to remember: your kink is not my kink; your mileage may vary; etc.
Viewed from the other angle, YKINMK also refers to the fact that not liking a certain sort of story does not mean that a person is prejudiced. For example, not liking slash and being biased against gay people are two different things; for most people who do not like slash, it's a matter of preference. Assuming that someone is prejudiced simply because of their preferences in fanfic is inadvisable.
The PPC often deals with YKINMK fics. Especially at the Department of Bad Slash (and its Bad Het division), agents will often encounter scenes that make them want to reach for the Bleeprin (or possibly the nearest pointy object). The question remains, though: is it really badfic? Or is it just a matter of preference? If the fic is well-written, even if the person reading it finds the "kink" not to their taste, then it is not a candidate for being taken on by the PPC.
How to Solve YKINMK Issues:
[
]