"Also, note to self: Never go against any archivist in games of PPC trivia. I will lose."
—Granz, talking about doctorlit in the chatroom, October 23, 2016
Yes, I am doctorlit (ignore the title above; I never capitalize my username). I have Permission, and primarily work in literature-based fandoms, with a few video games thrown in, too.
I have now moved into my own home, meaning I am responsible for an electric bill. My internet activity time will die down as a result. I will still be writing and remain active in the community, but mostly only on the Board and Wiki. I will still be checking emails regularly, and will also respond on the talk page here. Feel free to talk to me on AIM and Skype if you happen to catch me on.
I am temporarily unavailable as a beta reader. Contact information can be found here. I am also a Big Sibling, part of House Kind Words and a Two-by-Four. This house focuses on beta reading and constructive criticism, as well as improving one's own writing by listening to the same.
Some of the lower-profile characters I've created or worked with or recruited can be found here.
I'm a book nerd at heart, and I read just about any science fiction, fantasy or just any general fiction I can get my hands on. I'm also a fan of role-playing games and serial webcomics.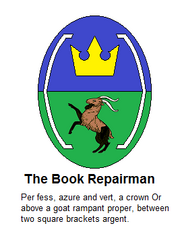 Mini-Boarders and Other doctorlit-Related Minis

[

]
Dac (September 14, 2011)
doctrdrawing (doctorlit; October 25, 2011)
dco (Caddy; March 11, 2011)
dcotorlit (doctorlit; May 24, 2012)
DOCTORLIC (Plat; June 20, 2012)
Dpc (Riese; October 8, 2012)
Doctorit (link5261 (on a Pokemon charity live-stream); April 22, 2013)
doctolit (Miah; August 6, 2014)
doctorlic's (James Shields; October 6, 2015)
Arizone (January 7, 2013)
Current Canon Research
[
]