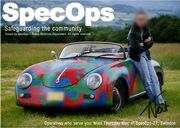 The Thursday Next book series is a metafiction-detective story set in an alternate universe of Earth-One, where the Crimean War has gone on for far too long, literature forgery and cheese smuggling are crimes, time travel is an innate skill for some individuals, and cloned dodos are common housepets. It is also possible to enter into the text of a book, and into a whole fictional space, in fact. The series is named for the titular character created by Jasper Fforde. She first appeared in The Eyre Affair where she worked for SpecialOps 27, the Literary Detectives, in the Swindon branch.
The Thursday Next series was once considered a quarantined continuum, but Jasper Fforde's stance on fanfiction has since changed. Because the PPC is also set in a metafictional literary-multiverse setting, all kinds of bizarre shenanigans may now be set to occur. Or not. Yeah, maybe not.
The Grammasite parasites originate in this fandom.
In Fanfiction
[
]
There is not much fanfiction about Thursday Next or the world she lives in; the series' official website hosts some, but these mostly take the form of supplemental materials, rather than true fics. Those fics that do appear elsewhere are primarily crossovers, due to the nature of the Thursday Next continuum. Untanglers, start your engines.
Missions in this Continuum
[
]
Before it was quarantined, attempts were made to establish a working relationship between the PPC and Jurisfiction:
Now that the quarantine has been lifted, PPC missions in the Thursday Next universe are publishable once again.