Jurassic World: Dominion Dominates Fandom Wikis - The Loop
Play Sound
Not to be confused with Board of Department Heads.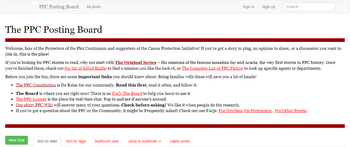 The Board is not a table, it is not a plank, and it's not a chalkboard or whiteboard or whatever-else-have-you. It is the PPC Posting Board, and that means comfort it is the main message board of the PPC.
The Board has a constitution, which we politely insist that you read before participating. It also has a FAQ, which newcomers may find useful.
This is where you can get Permission, talk off-topically about something, plug your missions or fics, and occasionally bring up badfic.
The people who visit the Board are generally excitable and friendly. They also tend to try and give you things, if you prove a vulnerable target. They especially love it when people who had left return to the Board, and even more so if they return to the PPC itself.
History
[
]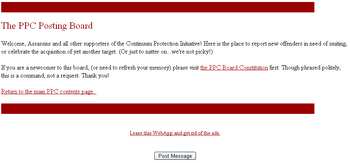 The PPC Posting Board was founded on November 3, 2002.[1] It was located at http://disc.server.com/Indices/199610.html until 2008, when Server.com relaunched as YourWebApps.com,[2] and at http://disc.yourwebapps.com/Indices/199610.html from then until October 31, 2019, when YourWebApps shut down the DiscussionApps service.[2]
On October 13, 2019, in advance of the shutdown, the DoSAT Continuity of Operations Division (also known as Boarders Tomash, Delta Juliette, and Thoth) announced the opening of the New Board at https://www.plotprotectors.org/. This Board was custom-designed by COD to look and act as much like the original Board as possible, but with upgrades to security and performance. New features include a functioning account creation and login system, spam protection, the ability to edit posts, and tags for Permission requests, plugs, RPs, and more.
The founding date of the Board was mistakenly believed to be March 12, 2003 for many years, most notably demonstrated in March 2008, when the Board's presumed fifth anniversary was celebrated with a role-play. This is because March 12, 2003 was the date of P@L's relaunch of the PPC Main Page as a subdomain of Odd Lots, which had undergone rehosting.[3] This date was displayed prominently at the top of the page, above the link to the Board, from then until the entire site went down in 2009,[4] hence our confusion. Huinesoron and Neshomeh rediscovered the true founding date of the Board while perusing captures of Odd Lots in April 2020.[5]
Archives
[
]
In 2014, YourWebApps suddenly remembered that free DiscussionApps are limited to 25,000 posts[6] and cut the Board's backpages, which had previously stretched back to mid-2008, to September 2012.[7] In order to preserve posts older than that, Huinesoron and Tomash launched the Board Archives here and here.
T-Board
[
]
See T-Board
T-Board is the PPC's backup Board, used for RPs and as a spam or server-issues shelter. It can be found here.
References
[
]
↑ The Odd Lots main page as captured on November 27, 2002
↑ 2.0 2.1 "DiscussionApps" entry on the Archive Team Wiki, retrieved April 14, 2020
↑ The Odd Lots main page as captured on April 07, 2003
↑ Odd Lots historical mirror hosted courtesy of Huinesoron, as of August 30, 2009
↑ "The REAL founding date of the Board!" by Neshomeh on the PPC Posting Board, April 13, 2020
↑ Reply to "Sudden archive disappearance?" by Tamara on DiscussionApp Forum, Apr 3, 2014
↑ "Sudden archive disappearance?" by Huinesoron on DiscussionApp Forum, Apr 3, 2014