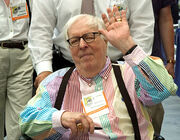 Ray Bradbury was a prolific author of fantasy and science fiction stories, to the point where not only has he been honored with numerous writing awards, but he also had one named after him. In addition to his eleven novels, Bradbury penned literally multiple hundreds of short stories, as well as screenplays and movie scripts. He has garnered an impressive fanbase, which means that fanfiction can't be far behind. He died on June 6, 2012 at the age of 91.
His official website is here.
Major Works
Edit
The Martian Chronicles (1950)Edit
The Martian Chronicles are a series of short stories about the human race in the 2030s. Humanity escapes from an Earth ravaged by atomic weapons and tries to settle on Mars. Mars, however, is already occupied, and the locals greet Earth's immigrants with violence. The Chronicles were made into a BBC miniseries in 1980, which deviated significantly from Bradbury's stories.
Fahrenheit 451 (1953)Edit
Main article: Fahrenheit 451
The Green Town Trilogy (1957, 1962, and 2006)Edit
Dandelion Wine, Something Wicked This Way Comes, and Farewell Summer are a trilogy of very loosely autobiographical novels, with Green Town being a fictionalized version of Bradbury's hometown of Waukegan, Illinois. Dandelion Wine is a series of short stories tied together by Douglas Spaulding, a stand-in for Bradbury's younger self. Farewell Summer is a direct sequel, focusing on the conflict of age versus youth as Douglas grows older. Something Wicked This Way Comes is also set in Green Town, but has a much darker story, including a twisted carnival run by an evil ringmaster. Instead of Douglas Spaulding, the main characters are two other boys, William Halloway and Jim Nightshade. A few of Bradbury's other short stories also take place in Green Town.
The Halloween Tree (1972)Edit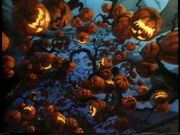 In The Halloween Tree, a group of children set out to go trick-or-treating on Halloween, but discover that one member of their group, Pip, is on his way to the hospital instead. When they see Pip's ghost running away later in the evening, they try to follow, only to meet a mysterious man named Moundshroud, who is also seeking Pip's ghost. As the whole group pursues Pip across time and space, the kids learn a lesson about the true meaning of Halloween. And also, death. An animated adaptation was made for television in 1993, and was written and narrated by Bradbury himself.
Community content is available under
CC-BY-SA
unless otherwise noted.