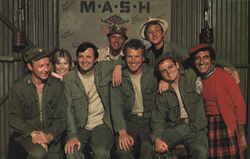 M*A*S*H, sometimes MASH, is the title of a series of books, a film, and a TV show about a Mobile Army Surgical Hospital in the Korean War.
M*A*S*H minis are mini-P.A. systems.
The Canon
Edit
The Books
Edit
The original book (MASH: A Novel About Three Army Doctors) was written by Richard Hooker, based on his experiences as a surgeon in such a unit, and published in 1968.
There were a number of further books written by Hooker alone, and later co-authored with Peter Butterworth. They follow the characters from the original book, plus a few new ones. The first few retained something of the quality of the original, but later became rather formulaic.
Some titles include:
M*A*S*H Goes to Maine (1972)
M*A*S*H Goes to New Orleans (1974)
M*A*S*H Goes to Paris (1974)
M*A*S*H Goes to London (1975)
M*A*S*H Goes to Morocco (1976)
M*A*S*H Goes to Las Vagas (1976)
M*A*S*H Goes to Hollywood (1976)
M*A*S*H Goes to Texas (1977)
M*A*S*H Goes to Moscow (1977)
All the books focus on Hawkeye and Trapper John Macintyre as the key characters.
The Film
Edit
Starring Donald Sutherland and Elliott Gould, this 1970 Robert Altman film is based on the original book.
The TV Series
Edit
The TV show M*A*S*H was a spin-off of the film MASH. One of its notable qualities is that it ran for eleven years (1972-83) while the war only lasted three. Of the three versions of the canon, the TV series is by far the most popular, and the first that comes to mind for most people when you mention M*A*S*H.
M*A*S*H has two little-known spin-offs. AfterMASH reunites Klinger, Potter, Mulcahy and Kellye in a U.S. hospital after the war ends. Trapper John, M.D. shows Trapper twenty-eight years after the war, working as chief of surgery in a San Francisco hospital. A pilot episode was also produced for an unmade series that would have had Radar working as a police officer after leaving the army.
M*A*S*H in Fanfiction Edit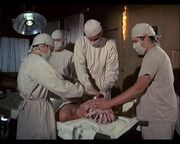 Fanfiction often explores what could have been. Here those are romantic relationships between Hawkeye and BJ or between Hawkeye and Margaret. Often these stories are set after the war, when everyone has gone home. Fanfics are, almost invariably, based on the television series.
The authors in this fandom tend to be older than the average fanfiction writer, which results in far fewer Mary Sues dropping in at the 4077th. While there are still some Sues, bad slash is the bigger problem by far.
Missions in this Continuum
Edit
Community content is available under
CC-BY-SA
unless otherwise noted.