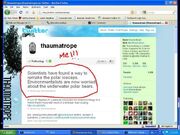 A kippur is a unit used to measure the awfulness of a book. [. . .] Using a very precise formula involving the number of pages, the amount of purple prose, the urge to throw the book against the wall, the amount of times 'wtf' is uttered, and use of book as an insomnia cure, the kippur is derived.
Kippur, also known as Kippurbird, is well known for sporking The Inheritance Cycle as well as a handful of other bad novels.
Kippur is also a member of the PPC and writes Agents Alec Troven, Verra Rose, Lorac and Marc-C. Alternate versions of some of these characters, especially Alec, are set to appear in a published series of novels, tentatively titled Alternates, which Kippur is working on revising.
Kippur is the reason that the Things I Am Not Allowed to Do at the PPC list exists.
Sporkings
[
]