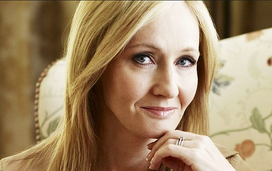 J.K. Rowling (Joanne Rowling) is the British author of the very popular Harry Potter series. She first published them in 1997 and now is the 1,062nd richest person in the world.
She is partially at fault for the recent popularity of fanfiction. J.K. Rowling was "flattered people wanted to write their own stories" about Harry Potter.
Since she is not yet dead, and therefore doesn't have a grave to spin in, she is unlikely to be providing much power to the DoDAEG.