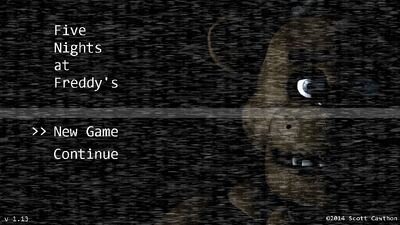 Five Nights at Freddy's is a series of incredibly popular indie horror games created by Scott Cawthon. The games were developed in a remarkably short time; the first game came out in August 2014, the second that November, the third in March of 2015, the fourth in July 2015 and RPG spinoff called "Five Nights at Freddy's World" was released in January 2016. A fifth one, called "Five Nights at Freddy's: Sister Location" was released in autumn of 2016.
The plot of the first game centers around Mike Schmidt, the new night security guard at Freddy Fazbear's Pizzeria. He's supposed to check on the cameras and four animatronic animals—the titular Freddy, Bonnie the rabbit (who is male), Chica the chicken, and Foxy the piratical fox—to make sure they're all running smoothly.
Only one problem: The animatronics are demonstrably evil and out to murder him.
As the series progresses, it becomes clear that there are more sinister things at work. The souls of several children, who were murdered by a mysterious figure at the various Freddy Fazbear's locations, are known to be floating around. There's a lot of ambiguity in this series, leading to a lot of confusion and debate out-of-universe.
Because the series tends to leave players with more questions than definitive answers, many fanwriters come up with extensive theories regarding the history of the continuum, the exact nature of the animatronics, the identity of the Killer, and even reasons why the player character returns to the obviously-dangerous location every night.
Not helping anything is the fact that Scott Cawthon has left a great amount of the story to the fans' speculation, and has no intention of revealing anything else.
The series is host to an absolutely enormous amount of Canon Love, with fanmade songs, art, and music being available all over the Internet.
In Badfic
Edit
Alas, not all authors have the skill to work with their aforementioned theories, which sometimes blithely ignore what canon has been established. A common error is forgetting that Five Nights at Freddy's 2 is a prequel.
Minis in this continuum are mini-animatronics.
Missions in this continuum
Edit
Agents Specialised in this Continuum
Edit
Agents are considered specialised in a continuum when they have handled at least three missions in the canon. Most of these agents are also active/specialised in other continua. It is often not the agents who decide where their specialty lies, but the Flowers that keep assigning missions to them.
Community content is available under
CC-BY-SA
unless otherwise noted.